Juvederm Volbella is the newest dermal filler that is tailor made to add subtle volume to the lips and smooth the appearance of fine vertical lip lines. It was approved by the FDA in October 2016 but has been used in Europe since 2011.
How Does Volbella Work?
Juvederm Volbella® XC is a gel that contains hyaluronic acid, which is a naturally occurring sugar already present in the body. When Juvederm Volbella® XC is injected into the lips, the hyaluronic acid attracts and binds to water molecules. Since each molecule can hold 1,000 times its weight in water, using Juvederm Volbella® XC reverses age-related volume loss and can create plump, youthful looking lips. Juvederm Volbella® XC is equally effective at reducing lines around the edges of your lips.
Juvederm Volbella XC® is manufactured using a unique Vycross technology that cross-links molecules creating a smooth, malleable gel that delivers natural-appearing results in the lips and around the fine lines of the mouth.
Who Is A Good Candidate?
Patients who are in good health, have reasonable expectations and are 21 or over desiring a subtle lip enhancement or smoothing of vertical lines are good candidates for Volbella. If you are pregnant, breastfeeding or have an active cold sore or lip infection, Volbella cannot be used.
What Can I Do to Prepare?
Avoid any medications that can affect the body's ability to clot, such as aspirin, Advil, Aleve or vitamins. This is the best way to avoid bruising or prolonged swelling.
How Long Will Volbella Last?
Volbella can last up to one year due to the unique Vycross technology. Its longevity can be affected by an individual's metabolism, age and the amount of continual lip movement.
Treatment Details
Patients discuss their goals with Dr. Schwartz and a topical numbing medication is applied. Juvederm Volbella® XC is then administered using a super-fine needle. Juvederm Volbella® XC also contains lidocaine to numb the area and make the injections more comfortable. Most patients apply ice packs immediately after the injections to minimize swelling and bruising.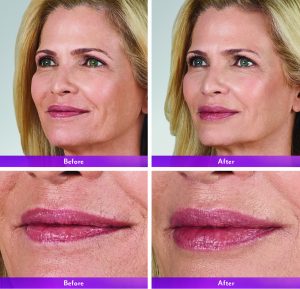 How Long Does Juvederm Volbella® XC Last?
Due to the cross-linking technology used in Juvederm Volbella XC®, the product generally lasts at least one year.
Can Juvederm Volbella® XC Be Combined with Other Fillers and Procedures?
Volbella can certainly be combined with other fillers or injectables depending on the patient's needs. For instance, in patients that request correction of the lips and nasolabial folds, both Volbella and Juvederm XC are used during the same session.
Well-suited for the lips and vertical lines surrounding the lips. Restylane Silk is another excellent dermal filler made of hyaluronic acid that is used similarly to Volbella, especially around the superficial fine lines around the mouth. Restylane Silk is made up of smaller, smoother particles than classic Restylane. This property makes Restylane Silk especially well-suited for the lips and vertical lines surrounding the lips.
If you would like more information about Volbella or Restylane Silk, schedule a consultation with Dr. Mark H. Schwartz.
Learn More about Dermal Fillers
Schedule a consultation with Dr. Mark H. Schwartz or to find out more about Juvederm Volbella.