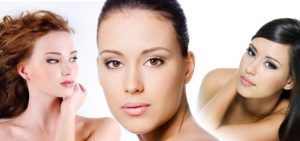 A Face that Conveys Youth and Beauty
While makeup and skin care products can conceal or reduce signs of aging, the most effective solution for loose, excess skin is cosmetic plastic surgery. Dr. Mark H. Schwartz is experienced in a full range of facial plastic surgery procedures designed to enhance or refine areas of the face and neck that look prematurely aged or have noticeable imperfections. Additionally, he offers non-surgical procedures that are minimally invasive yet deliver noticeable and beautiful results.
Manhattan board-certified plastic surgeon Dr. Schwartz's objective is to enhance his patients' features while preserving their unique characteristics. He subtly tailors his techniques to the individual patient and his/her unique qualities.
Depending on the goals of the individual patient, these procedures can be performed by themselves or combined for a more dramatic transformation. Treatment options include the following:
Facelift/Necklift
Facelift is the gold standard of facial rejuvenation. It comprehensively addresses signs of aging such as jowls, loose skin folds and displaced fat deposits. Facelift improves the contours of the face to produce a refreshed and youthful result.
Necklift hones in on horizontal neck bands, excess fat and loose skin beneath the chin and along the jawline.
Eyelid Surgery
Eyelid surgery is a popular facial rejuvenation procedure that rejuvenates the eye area. Specifically, it removes loose, saggy skin and tissue on the upper and lower eyelids, to create a rested and pleasant expression.
Brow Lift
Brow lift elevates a drooping brow to a more youthful position on the forehead. It also minimizes wrinkles and creases at the top of the nose and on the forehead.
Rhinoplasty
Rhinoplasty improves the size, shape or position of the nose. It can also refine specific nasal features, such as the nostrils, tip or bridge. If needed, rhinoplasty repairs structural deformities, such as a deviated septum, that impair normal breathing function.
Otoplasty (Ear Surgery)
Otoplasty repairs oversized ears or ears that project away from the head. It can also address a congenital ear deformity (e.g., "shell ear" or "lop ear") and restore normal curves and contours to the ear.
Earlobe Repair
Earlobe repair is appropriate for earlobes that are misshapen, and piercings that have stretched or have torn, often due to heavy earrings. The procedure can restore a normal appearance to the earlobes, allowing for re-piercing.
Schedule a Facial Rejuvenation Consultation
Schedule a consultation with Dr. Mark H. Schwartz or to find out more about our facial rejuvenation procedures.